Unfaltering top quality at competitive prices are the central demands made on the supply industry
It all starts first thing in the morning: open the cupboard, press the button and your first coffee starts to pour into the cup. Always the same amount, always at the right temperature. What would you do if this wasn't the case?
Those little things that annoy us can become far more problematic when scaled up to industrial level. So it's all the more important – particularly when it comes to Just-In-Time production – to have a supplier that consistently produces high quantities with unfaltering top quality, and who flexibly supplies immediate needs as well as product variants at competitive prices. A supplier who is also able to do all of this in the face of ever shorter development cycles. Automation makes it possible to continuously ensure a high quality standard for mass production in the automotive industry, particularly for parts that used to be produced manually or in a semi-automated way. That's why the highest possible level of automation is a basic requirement for the supply industry. Find out more about this groundbreaking topic in our blog post: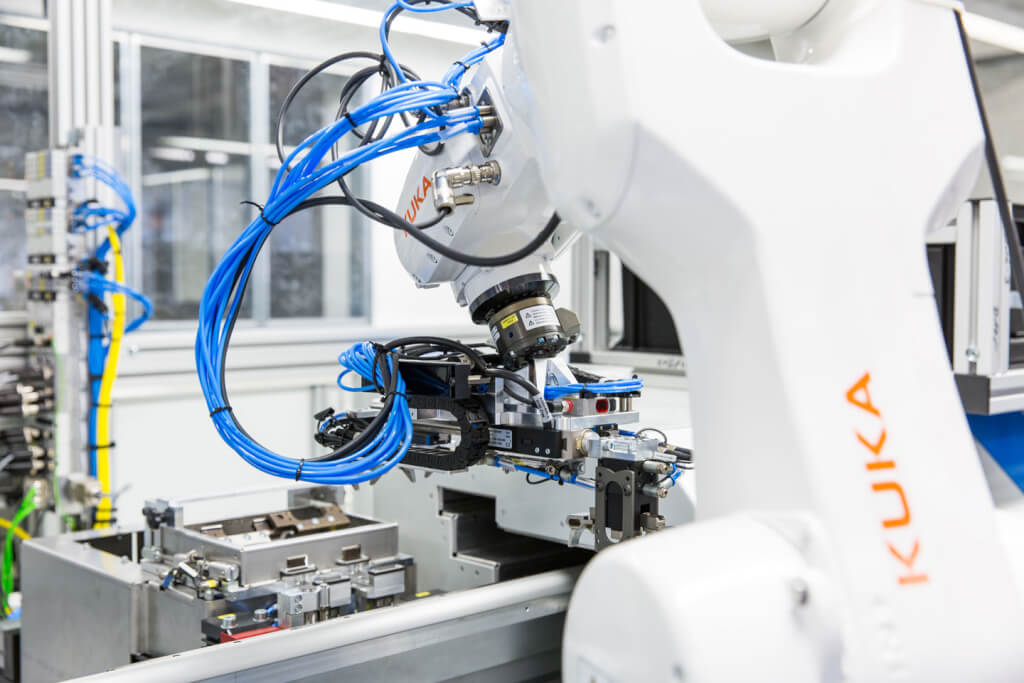 Automated manufacturing for the mobility of the future
In recent decades, manufacturing has been characterized by the introduction of robots which automated the industrial production processes. In the future, automation will be further intensified by the networking of processes with the aid of control technology and control circuits.
Automation is used very often – and very successfully – in standardized tasks with a high repetition rate and great precision, and at high motion speeds with large quantities of data that must be processed in a fraction of a second. A huge reduction of the "human factor" promises consistent quality, high quantities and continuity of output, paired with clearly lower staff costs compared to manufacturing that involves purely manual activities. Automation is also used in many areas where the requirements far exceed human capabilities. Indeed, it is only through automated processes that certain products can be created at all.
Precise, reliable and flexible – the demands made on automotive suppliers
In order to meet the challenges of modern manufacturing operations, it is important for automotive suppliers to be able to guarantee the greatest possible standardization of production processes.
At the same time, maximum flexibility in terms of volumes and variants as well as flexible implementation of customer-specific requirements are in demand. And all of this is necessary with ever shorter time-to-market requirements.
Therefore, the aim is to achieve the highest possible degree of automation as early as possible and, in doing so, to be able to react quickly and flexibly to situations that involve changed requirements and unpredictable obstacles (e.g. fluctuations in the quality of raw materials). These are the prerequisites for ensuring uninterrupted 24/7 production. And ideally, production should be based as close to the customer's production site as possible to keep transport routes and carbon footprint to a minimum.
Miniaturized data cables for Car 3.0
The last century was characterized by making cars faster, safer and more comfortable (Car 1.0). The majority of the optimization processes focused on mechanical areas such as engine, power transmission, chassis and crash behavior. This has changed over the last 25 years through the introduction of more and more electronics for infotainment and partial driver-assistance systems in the vehicle. High-beam assistant, cruise control with distance alert, blind spot assist, etc. now support the driver in certain areas. The driver always has a simple overview of the driving situation thanks to head-up displays, surround view, blind spot assist and road sign recognition. Among other things, these individual components have made the driving experience more efficient, more comfortable and safer. (Car 2.0)
If we take a look at the development laboratories of today's car manufacturers, we can see that we are in the midst of an exciting change where two significant automotive trends are taking place almost simultaneously.
The electrification of the drive system is fundamentally changing not only the way we move around, but also the use and architecture of the vehicle. New information interfaces are being created such as home area networks, payment systems or smart highways with which the vehicle exchanges data.
At the same time, we are also in the process of transitioning from the manually driven vehicle to the self-driving "Car 3.0" which is networked with its surroundings in multiple ways.
To be able to do this, the vehicles of tomorrow must be equipped with additional sensor technology and a data and software infrastructure that takes over the task of humans in real time and in all weather conditions. Different sensors such as LiDAR or radar systems are currently being tested for this purpose. Redundant acquisition, transmission and processing, similar to aircraft, can play a role here.
At the same time, the networking of vehicles will make autonomous driving possible. For "Car to X" or "V2X", vehicles will connect to other nodes/devices in the IOT ("Internet of Things") via various antennas with 5G, later 6G or GPS, and communicate with these systems to add to the data collected internally.
The self-driving vehicle will enable the driver to behave as if he were working at his desk or relaxing on a sofa. In the future, the driver will have more time during the journey to surf on the Internet, answer emails or make skype calls, etc.– the data required by the vehicle and driver will increase immensely.
To implement this transformation, the hardware and processes required will also have to be significantly developed. As a specialist in data transfer, MD sees miniaturization as the megatrend for data cables in the future.
Through the increase in sensor and cable density, and due to the requirements for their redundancy, the products will have to become increasingly smaller. High expectations in terms of performance together with simultaneous miniaturization will require lower tolerances and the need for more accurate processes. Therefore, in the field of cable assembly for the automotive industry, a major change can be observed from connection systems, which in the past were designed for assembly with manual tools and techniques, to connection systems suitable for automated assembly. Reasons for this include the already increasing demand for cables and plug-in connectors due to the increasing number of driver-assistance systems and miniaturization, as well as growing demands for traceability through the collection and storage of quality and process data.
Automation solutions for MD ELEKTRONIK's cable assemblies
MD has a wide range and a large portfolio of active operating equipment for cable assembly that has been optimized over the years. Approximately 80% of MD's products are fully produced and tested in automated manufacturing processes. Experience from over 25 years constantly flows into the design of future production equipment with the aim of achieving the highest level of automation. Work is being carried out, in the company's own mechanical engineering department, on a portfolio of machinery that will enable MD to respond to the needs of its customers in the best possible way. MD's strategies can be summarized as follows:
fully automated production for standard products that have a high number of pieces
highly automated chain production for standard products that have a medium number of pieces and/or special properties
semi-automated production for special products that have a very low number of pieces and a high degree of individuality
The one element that connects these different production methods is a higher level planning and production system. This gives rise to a further requirement in terms of communication and controllability for highly automated machines.
Highly complex capacities are required not only for the adaptation and maintenance of a planning and production system for tens of thousands of customer orders and millions of products per year, but also to support the increasingly technologically-consolidated operating equipment. Transfer systems, processing operations, processing technologies, measuring and test equipment, the use of robots and the interaction of data transfer systems all require highly qualified technical staff to support and optimize them.
This change in the automated machines operated also has an impact on the company's employees. The combination of quality, process, product and raw material knowledge that is acquired internally cannot be obtained externally or learned through external training courses. Consequently, in-house training concepts taking several months to several years to complete are necessary. And due to the increasing complexities described above, employees who have undergone solid technical training or who have acquired the necessary experience themselves, are called upon to conduct the in-house further training programs.
MD is relying on various different elements for the automated production of cables in the future: the development of flexible, easy-to-operate production concepts, standardized systems which are ready for immediate use at international locations, and the continuous further development of employees enabling them to become technical experts who master highly complex systems.
Summary & conclusion
For the automotive supply industry, the main challenge in the 2020s is to achieve the highest possible level of automation, particularly in areas such as the production of on-board power systems and cable assembly, which used to be characterized by manual and semi-automated processes. This has become necessary, on the one hand, due to product-related developments (miniaturization, tighter production tolerances, etc.) but also due to economic and societal changes such as the shortage of skilled workers or stricter carbon emission standards. Companies that are prepared for these conditions and have implemented a high proportion of automated manufacturing processes are already securing a competitive advantage for themselves today, and therefore ensuring that they will continue to be reliable partners in the future.